Before seeing Zootopia: Disney, I can relate to bookish princesses, pixelated anti-heroes and even a tiny blue alien experiment. But how on earth can you make me sympathize with a rabbit in a weird cop outfit?
After seeing Zootopia: *wiping away tears* Disney, you did the thing.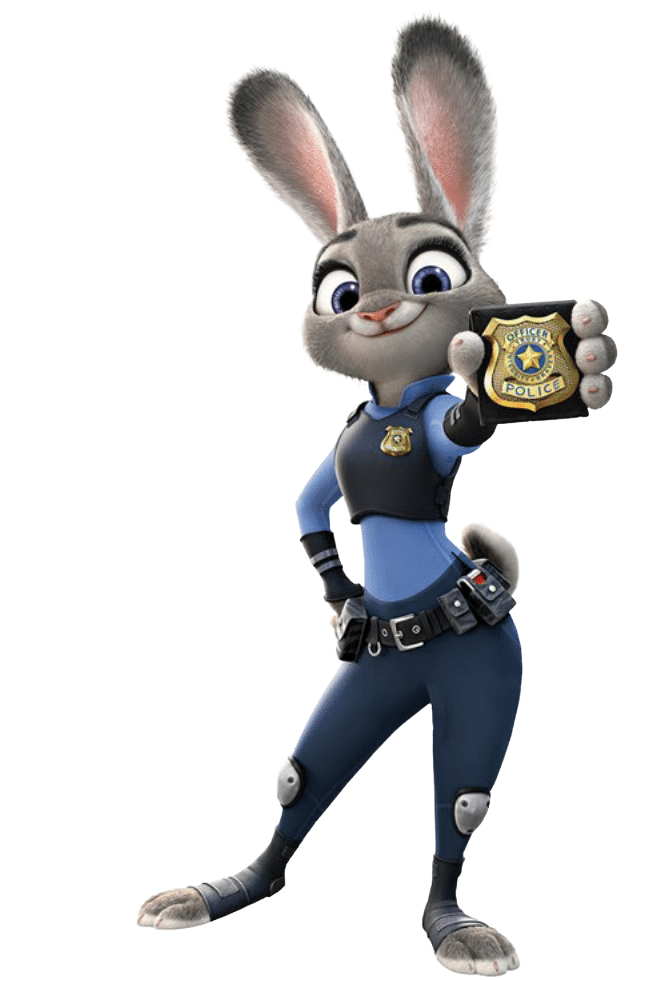 The story begins with Judy Hopps (Once Upon a Time's Ginnifer Goodwin), a young bunny aspiring to go where nobunny has gone before — the police academy. Much to the chagrin of her parents, Judy becomes the first bunny officer thanks to the Mayor's mammal initiative (think Affirmative Action). Judy gets assigned to the heart of the area, the thriving metropolis of Zootopia. However, upon arrival, Judy realizes she's the only one fighting for her dreams.
Judy gets a chance to move from meter maid to true cop when a missing mammal case comes her way. She teams up with Nick Wilde (Jason Bateman), a con artist who lives up to the title 'sly fox.'
I don't want to give too much of the plot away, but with Jennifer Lee involved in the writing, there has to be a twist ending. This one isn't as shocking as Hans's betrayal of Anna, but it's handled better by the protagonists than a simple *gasp! What are we to do?*
The humor surprised me most during the film. Sure, I'd seen the clip of Flash the Sloth in the DMV, the all-too-real commentary of how painfully slow government agencies can be.
Maybe that's where the humor gets its punch: as you laugh, you realize you've experienced the exact scenarios before and never in the best of situations. Early on, Judy's parents attempt to simultaneously discourage and encourage their daughter to follow her dreams. "Settle! Settling isn't so bad! Look at us, we settled!" Judy's dad says. "Yeah, I settled hard," responds her mother. One of the best moments is an incident with Chief Bogo (Idris Elba) where he tells Judy "This isn't an animated fantasy where you sing a musical number and watch your problem dissolve into thin air. So, let. it. go." My theater full of Cast Members guffawed at that point.
As with most Disney films, the true beauty lies in the message. "Zootopia" goes beyond a cute adaptation of "utopia" but ultimately looks to define "utopia" for an advanced society. Despite having evolved from their primitive states, the animals of Zootopia still expressed and experienced prejudices both outright and subtle.
In their attempts at crafting a modern utopia, Zootopia's writers offer more than a 'lack of conflict' definition. Their utopia becomes a moment where we recognize our own limitations, and in those limitations, we find unity. Once we realize the flaws of not only ourselves but how we categorize ourselves (predator/prey), the better we understand how to aid others. The representations of prejudice throughout the movie could be mix-and-matched with any contemporary issue.
How dare there be rabbits in the police academy? Females on the front lines of combat?
Don't trust a fox (insert minority of choice here); they're ruining Zootopia this country.
The movie leaves viewers with more than the high-flying adrenaline of Star Wars or the fuzzy warmth of Frozen (something Zootopia's writers poked fun at consistently). It gives a sense of urgency, a need to recognize our faults, and unite rather than continually degrade each other.
If you want your kid to be a better global citizen human being, take them to see Zootopia.
I give the film five pawcicles out of five. Zootopia hits theaters today, March 4.